Roy Hodgson was forced to defend Raheem Sterling after admitting that the Liverpool player had been left out of England's starting line-up for their 1-0 win in Estonia because he was "a little tired" despite playing only 45 minutes in the previous game against San Marino.
Hodgson revealed he had picked Adam Lallana ahead of his Anfield team-mate because Sterling had had "quite a difficult game" against San Marino and, though admitting it was unusual for a player of 19 to complain about fatigue in October, he went on to praise Sterling's honesty.
The England manager seemed aware that Sterling had left himself open to criticism and said: "People don't like it when you simplistically tell the truth. Is it common? I don't really know. But I think it should be, especially at international level when there are so many good players trying to get their hands on the shirt. I don't think you should keep hold of it when maybe you are feeling you're not at your best. I think it would be wrong of players to try to fool me into thinking they are ready and 100% when they aren't because they are robbing somebody else of an opportunity."
Hodgson said Sterling approached him during a 40-minute training session on Saturday. "Raheem had done the warm up and he came to me and said: 'Look I really am feeling a little tired, I am not in my best form at the moment because I am feeling a bit tired.' Don't forget it was two days after quite a difficult game against San Marino. It was fatigue he hadn't managed to shake off after the San Marino game."
Hodgson did accept, though, that many people would be surprised that Sterling should be complaining of feeling tired at this stage of the season. "I can't argue with the reasoning and I'm sure that will be said," he said. There was also a message to Liverpool that "it's a bit unfair if all the expectation to give the player a break falls on my shoulders."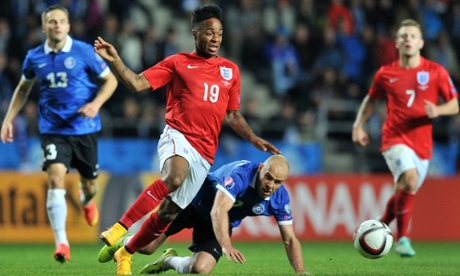 He added: "In mitigation, it isn't quite as simple as training maybe taking some juice from his legs. There is an awful lot going on in your head as well. Perhaps it's quite simply the season hasn't started quite as well for Liverpool as they wanted. I don't know, it's just a theory. I don't want to say any more. I don't want to get drawn. If you really want to research why he is tired further you've got to speak to him, people who work with him and his club. I'm convinced he'll have a week now when he goes back to Liverpool, they'll sort him out and come Sunday [when Liverpool play QPR] you'll see him flying around."
England won the match courtesy of Wayne Rooney's 73rd-minute free-kick after Estonia's captain, Ragnar Klavan, had been sent off early in the second half. Hodgson admitted they had "made it more difficult than they should have" and there was only restrained praise for his captain. "Wayne is very self-critical, he is delighted to score the winning goal but he knows he and his fellow forwards could have had many more.
"We have to take players' welfare into consideration and there are times when top league teams with Champions League football are going to have a situation when players suffer from physical and mental fatigue. As it turned out, on this occasion it was a perfectly good thing to do. I think it was the right thing to do as Raheem wasn't as sharp in the game against San Marino as he's been. But I wouldn't want that situation every time as I really want my best players to play when called upon. As you saw when he came on, there is nothing wrong with him and he isn't suffering from anything."