Closing thoughts and emails:
Who saw this one coming? Real Sociedad - whose confidence and shape looked non-existent early on - thoroughly merited their win in the end, bossing a second half in which they were always sharper and more spirited. Inevitable questions will be raised about the shape of Real Madrid's squad - their defending was creaky and they increasingly looked like a team who hadn't yet gelled properly as the game went on. And all that after looking as if they were going to produce a one-sided exhibition win in the first 20 minutes. "This may a lesson for Real Madrid," lectures Abhimanyu Purohi, "You let Alonso go, you let Di Maria go. Then your so called star studded team is no better than newbies in the game." And the final word goes to Yuvraj Chaure's missive from about 10 minutes ago: "This is the best game in ages. Hopefully a 92th minute penalty to Madrid won't ruin it." It didn't. Thanks for your company and emails. Bye.

Updated
Full-time: Real Sociedad 4-2 Real Madrid
And that's that – a remarkable, and deserved, victory, and terrific entertainment.

90+2 mins: Zurutuza charges clear on the left for some valuable clock running-down, and this is now surely all over.

90th minute: Benzema misses a real chance, swivelling inside the box and, with plenty of space created, cracking it left-footed against the outside of the box. Three minutes will be added on.

89th minute: A bit of a belated World Cup stars cameo as Kroos and Khedira link up well in midfield before feeding Rodriguez on the right, who beats two men and cuts inside before firing low and hard at Zubikarai. A bit too late for that for Real Madrid really.

Updated
88th minute: Zubikarai fumbles a high free-kick into the box from Rodriguez but gets away with it, as Ramos can't reach the ball before it goes out for a goal kick.

87th minute: Arbeloa gives the ball away to Vela who looks as if he's just going to corner flag it, only for the temptation to run at a weary Real defence to prove too much and he wriggles all the way to the six-yard box before being crowded out. Madrid clear.

85th minute: Bale feeds Khedira who finds Arbeloa but the ball in is headed clear easily. Madrid come again and Marcelo gets clear on the left but his cross is sliced erratically wide, though it takes a slight deflection and a corner is awarded. And Khedira goes agonisingly close when he meets the resultant corner kick with a firm header and sends it inch or two over the bar.

83rd minute: Final Sociedad substitution - Prieto, who has been excellent, is replaced by Mikel Gonzalez.

81st minute: Madrid begin to press again in earnest, and win a free-kick wide on the
left, which fails to clear the first man. And now the visitors are giving away needless free-kicks, Isco bringing down Vela inside the Sociedad half.

77th minute: Madrid substitution – Arbeloa is on for Carvajal. This has been an ever more poor defensive display by the visitors.

Goal! Real Sociedad 4-2 Real Madrid (Vela, 75)
75th minute: Vela and Canales have looked canny introductions for Sociedad, and Vela wins a corner when he gets clear on the left and his menacing cross is volleyed behind. And they score from it, as Real fail to deal with the corner properly, and Vela turns and thumps the ball into the roof of the net, though Real are appealing for handball against Vela. Incredible.

74th minute: Substitution – a needed one, Khedira replaces Modric. Though he concedes possession with his first touch.

72nd minute: Real Sociedad, frankly, look the better team now – more assertive in midfield, and the less shaky in defence. But they concede a free-kick needlessly when Prieto fouls Rodriguez 25 yards out. Bale wants it, gets it, but thuds it into the advancing wall and it spins away for a corner.

70th minute: Isco gets clear of Zaldia and scuttles forward on the break, but though it's four against three, Benzema wastes the chance and is blocked when the ball is played to him. The attack eventually fizzles out and the home side see it out for a goal kick.

67th minute: Sociedad are still attacking, firing shots in - if a long way over on this occasion – from distance. That's the problem with La Liga – the smaller clubs just give up against the big ones.

Goal! Real Sociedad 3-2 Real Madrid (Zurutuza)
Wouldn't you know! The home side are in front, Prieto gets in on the right after a lovely interchange on the right with Vela and fizzes a low ball across the face of the goal for Zurutuza to get in front of Pepe and force the ball home. 3-2. What a comeback.

Updated
63rd minute: Sociedad win a free-kick, as the home fans scream in vain for a card against Carvajal who conceded it. The delivery creates a moment of panic as Sociedad pile men into the area but the danger is cleared.

"Compare the benches," compares Stefan Agres, "Madrid have nothing on the bench to change the game with – Ancelotti should have left one of the stars out to be able to throw on for impactrso had pardo, vela, canales and Arrasate 'horribly' out of depth, says Sid Lowe on twitter ..." At 0-2 after 15 minutes it did look pretty horrible, mind.

59th minute: Real Sociedad substitutions – Canales for Castro, Vela for Agirretxe, as the home side look perhaps to shore things up.

57th minute: Madrid break instantly and win a corner themselves. But this too is easily cleared.

"Now, Madrid letting Di Maria and Alonso go doesn't seem that smart anymore," reckons Ademola-popoola Oreoluwa. "Kroos has always needed an holding midfielder playing with him for him to shine, he would have been great with Alonso. Rodriguez was simply not needed. Isco is a brilliant player and Di Maria absolutely deserved to keep his place. If Madrid decide to play with two number 10s and two number 8s, in the CL, they might just need to get a new coach because Florentino Perez never blames himself nor the galacticos" Rodriguez, brilliant as he is, did seem a Galactico signing rather than a role-filling one.

Updated
55th minute: Kroos, Carvajal and Modric link up well in midfield and on the right but the latter's cross is cleared - though only as far as Ramos, who attempts a mad run straight at and through the defence. He gets noiwhere. And Sociedad break, and Agirretxe is played in by De la Bella, and the shot is cleared for a corner by Ramos. The corner is cleared though.
53rd minute: At the other end Zurituza feeds De la Bella whose threatening cross from the left is headed clear by Marcelo. Sociedad regroup and attack again though, as Pepe gives it away but play is halted when Zurituza fouls Carvajal.

51st minute: Isco, who's had a busy game just behind the front men, almost finds an opening on the left but is thwarted by determined defending but Real Madrid come again, working the ball out to Benzema who darts into the box on the left before needlessly giving it away.

48th minute: Madrid begin the half on the attack but the home side don't look as frightened now, and Granero, with some neat trickery inside his own half, initiates a fine passing move from Sociedad, from which they nearly score, Prieto's ball into the box finding the head of Agirretxe, whose header is deflected wide for a corner. The European champions' defending is looking a bit wobbly now.

Updated
46th minute: Neither side have made any changes at half-time. There have been 29 goals in the past five league meetings between these two, we're reminded, so perhaps all this isn't a surprise.

Peep! We're underway again, the visitors kicking off.

Half-time La Liga transfer talk: Alvaro Negredo is joining Valencia from Manchester City on loan, according to Sky.

Half-time: Real Sociedad 2-2 Real Madrid
Well, this has become interesting. An enjoyable half ends with the scores level, against the odds. A horrible rabbit-in-headlights opening from a Sociedad gave Real Madrid the chance to run riot, which they looked like doing after those two early goals and several other threatening forays. But the home side found some composure and initiative and deserve to be level, for their spirited response in the last 20 minutes of the half. Back in a bit.

45+2 mins: Close! Real win a free-kick in a dangerous position on the right. Rodriguez's tantalising curling delivery brings Zubizarai out to punch, he misses, and Ramos heads narrowly wide.

44th minute: Four and a half seconds before that goal went in, John McEnerny sends a well-timed email: "There;s a lot of 'how will RM play without CR7?' we'll they seem to be doing just fine, the more pressing question is "how will they do without XAlonso?". Yeah Kroos is class but he isn't as complete IMO just yet as Xavi, any side would miss him. Shrewd bit of busy by Pep. Surprised RS didn't start La Liga's very own "sicknote" Sergio Canales who is a smashing player. Madrid will do all right against sides like RS "CR7less"but against better sides at home & in the CL it will be key no matter who have in side!"
They're not completely doing alright against sides like RS now, and Sociedad are ending the half pushing into Real Madrid's half.

Goal! Real Sociedad 2-2 Real Madrid (Zurutuza, 41)
A fantastic header from Zurutuza brings the scores level. Carvajal is outwitted on the Sociedad left and the cross is excellent, Zurutuza getting in front of and away from Marcelo to power a header past Casillas. Some gaps in the defence were ruthlessly exposed there and we have a proper match on our hands.
Updated
39th minute: Sociedad's defensive pressing is improving, as some neat interplay between Carvajal, Rodriguez and Kroos is thwarted on this occasion by the home side's high-line harrying.

38th minute: The home side had had a shout for handball against Bale just before the goal, too, the ball striking his shoulder/upper arm. An "I've seen them given" incident, for what it's worth (ie nothing). Bale almost finds an opening from a long ball forward but is beaten to the ball.

Goal! Real Sociedad 1-2 Real Madrid (Martinez, 35)
Prieto dances into the box but can't get the better of Ramos by the byline, but wins a corner, which causes some confusion and is cleared for another one, which yields a goal! This one is well flicked on for the defender Inigo Martinez to ram home at the far post.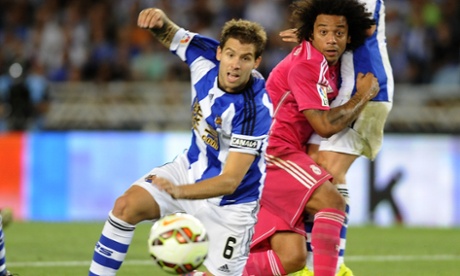 Updated
32nd minute: Nearly a third for Madrid as Kroos's low shot from close range is diverted away by Zubikarai's leg, the keeper growing into the game now, as he needs to. Another of Real Madrid's imminent attacking arrivals, of course, is Chicharito, though he wouldn't dislodge anyone from this line-up. It's a squad game of course though, particularly when you have squillions to throw around.

29th minute: The home crowd have perked up a little, and we have a little bit more of a contest on our hands at the moment, Castro doing much of the prompting.

Updated
27th minute: Proper chance for Sociedad! Some neat interplay on the right is followed by a teasing ball from Castro into the left-hand side of the area which Agirretxe heads back for Granero, whose fierce shot is brilliantly blocked by Ramos.

25th minute: Fine save from Zubikarai to turn Marcelo's left-foot shot behind at the near post. Isco's cut-back for him was brilliant too. And from the corner Ramos nearly scores with another header but it's just an inch or two too high this time.

23rd minute: Real Madrid will surely score again here, and the strange thing is James Rodriguez has hardly been involved in their most menacing attacks. Sociedad are winning corners, though, but they're not doing anything with them, but a foul on Prieto wins a free-kick, which comes to nothing due to a borderline offside call against Agirretxe.

Updated
20th minute: Horrible Sociedad defending as a terrible lofted back-pass by De la Bella is almost intercepted by Benzema before the keeper just does enough to deter him. It's not cleared properly and Marcelo skids a shot wide of the left-hand post.

Updated
19th min: Castro has a half-chance - the only sort of chance the home side look like creating at the moment - but his cross-shot from the left of the area is punched away by Casillas.

18th min: Booking: Granero follows in hard on Carvajal and goes into the book. Modric, who has been pivotal in almost every Real attack, then advances but his low ball from the right is cleared.

16th min: "Arrasate has had the look of a man horribly out of his depth right from the start," Tweets Sid Lowe, and it's hard to disagree at this point. But his side have had a bit more possession in the last five minutes, and De La Bella sends a wild attempt from 20 yards skimming across the area.

Updated
13 mins: Sociedad look shell-shocked , but they win their first corner. Granero's delivery is poor and Real Madrid clear, but he gets a second chance and a better ball in from the left almost creates an opening but the visitors clear.

Goal! Real Sociedad 0-2 Real Madrid (Bale, 11)
Expertly taken goal by the Welshman. Modric advances down the right, feeds Bale on the edge of the area. He nutmegs Elustondo then sends a sharp low shot past Zubikarai into the corner of the net.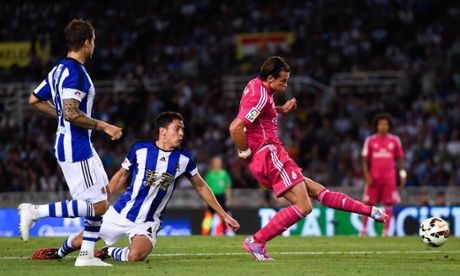 Updated
9th minute: The home side are looking a little ragged already, slicing balls forward out or straight down defender's throats, and then conceding possession to Kroos, whose delicious curling long ball finds Marcelo, who is brought down for a free-kick. Ramos takes it and hits the bar! Sociedad scramble to clear before it falls to Modric, who belts it wide.

7th minute: That was a simple goal, pinpoint delivery, and the Real Madrid defender leaps brilliantly to nod emphatically into the corner. Sociedad respond with a bit of pressing but the danger is clear before it reaches the penalty area

Goal! Real Sociedad 0-1 Real Madrid (Ramos, 6)
And they score from the corner

6th min: Real win a corner when Modric's teasing curling ball from the right is headed behind as Bale encroaches.

I stand corrected on Madrid's away kit - it's fuschia apparently, and several of their players have colour-co-ordinated it with their boots.

4th min: Marcelo is doing a bit of his trademark rampaging forward on the left and he finds Benzema in the middle who nudges on to Bale, also playing on the left tonight, but the goalkeeper thwarts him

2nd min: Madrid are on the attack from the kick-off and dominate the early possession, Bale tries to find Benzema with a low ball across the box but Sociedad clear

The teams come out, Real far from resplendent in their garish pink tracksuit tops and away kit.

Updated
And it has now finished Villarreal 0-1 Barcelona, Luis Enrique's substitutions paying off with Sandro proving the match-winner.

Goal to Barcelona! No sooner do I type that than Sandro taps home on the goal line to put Barca ahead.

In the meantime, it's still goalless between Villarreal and Barcelona going into the final 10 minutes. Real Madrid could end this evening as the only side in La Liga with a 100% record – after only two games. Or Granada could. They play at Elche at 10pm.

The teams
They line up like this:
Real Sociedad: Zubikarai; Elustondo, Bergara, Iñigo, Granero, Agirretxe, Zurutuza, Chory, Zaldua, Prieto, De la Bella. Substitutes: Bardají (gk), Martínez, Mikel, Carlos, Pardo, Canales, Yuri.
Real Madrid: Casillas; Carvajal, Pepe, Marcelo, Ramos, Kroos, Modric, Isco, Rodriguez, Bale, Benzema. Substitutes: Navas (gk), Varane, Khedira, Arbeloa, Nacho, Illarra, De Tomás.
Preamble
Evening everyone, and with only a day remaining before the transfer window Slams Shut (do people ever close it quietly?) the club around whom more transfer activity, speculation and general tittle-tattle whirls than any other in the world are looking to make it two La Liga wins out of two in the Basque country. A week that has seen Angel Di Maria and Xabi Alonso depart has been ending with talk of Radamel Falcao arriving from Monaco, although they may be denied by Manchester City's last-minute manouevrings. The European Champions are without Cristiano Ronaldo for this one, the Portuguese still recovering from his spot of knee-knack, but will be firm favourites tonight.
This is partly because Real Sociedad have endured a pretty ropey start to the season, beaten 1-0 by fellow Basques and La Liga new-boys Eibar last week and then turfed out of the Europa League on Thursday by Krasnodar. Sociedad coach Jagoba Arrasate felt "angry and a bit ashamed" about the European elimination and wants his side to "channel their anger" into their performance against Madrid this evening.
In the meantime, you can read about the champions Atletico Madrid's narrow win over newly-promoted Eibar last night here.
And you can follow the latest from Villarreal v Barcelona with Jacob Steinberg here.

Updated