Full-time
Well, that was ridiculously easy for Barça. I shudder to think what would have happened to Elche if Neymar and Suárez had started alongside Messi. Elche were toothless. They had no shots on goal even though they had a man advantage for 45 minutes. That was no more than an extension of pre-season for the home team really. Barça will have learned very little but they will have got fitter, what running around with 10 men for half the match. Anyway, thanks for your emails. Bye.
Updated
90+3 min: Messi is denied a hat-trick by a last-ditch tackle and peep! That's your lot.
Updated
90+1 min: An email: "My ex girlfriend's mother was a witch, didn't play poker we played Pontoon and she was always the dealer cos her house her rules," writes John Mc Enerney. "Won a little lost a bit but I was the real winner cos I no longer have any contact with her or her daughter but I'm sure she can see me in her crystal ball & one day she'll scramble her army of flying monkeys to get me!"
90 min: There'll be three more minutes of this walk in the park for Barça. Elche are down to 10 men now too. Jonathas has knacked an ankle and Elche have used up their subs.
87 min: Barça fans chant Luis Enrique's name. This has been a decent first outing for the new coach. Messi has looked surprisingly fresh, his youngsters have impressed, and his side have reacted very well to being reduced to 10 men. That defence though? Vermaelen may well look like Baresi among that lot.
84 min: "One thing that has really disappointed me about Barcelona's pre-season is the shipping off of Deulofeu on loan. The lad's the future of football!' harrumphs Philip Podolsky. Barcelona's bench is a pick-and-mix of the future of football, Philip.
82 min: Pedro is sent shuffling up the left wing. He works enough space to whip a cross in but it's a 3/10 effort and cleared easily.
Updated
78 min: A couple of hundred Elche fans are sat in the heavens at Camp Nou wondering whether their team has even played as many passes as they have brought supporters. I'd say it's close.Barcelona are knocking the ball around midfield accurately but with very little purpose, happy to wait for the right moment to spring the killer pass.

77 min: A substitute. Iniesta, Barça's captain tonight, is replaced by Sergi Roberto. Meanwhile, JR in Illinois writes: "Here in the U.S. one of the announcers is (the borderline insane) Ray Hudson. After the last goal he compared Messi to a poker player, then said Messi was like a witch, then said playing against him is like playing poker with a witch 'because you know you're going to lose.' Earlier he also said someone on Barcelona was "'as cool as a polar bear's backside'." Readers, have you ever played poker with a witch? Did any of you win?
75 min: Rakitic may end up being Barça's metronomic replacement for Xavi, but more in the mould of Alonso. He has played some very accurate long passes tonight, as well as doing the short and sweet stuff economically too.
73 min: Rakitic curls a low pass straight into the path of Alves, who doesn't have to break stride on the right. He plays a low centre into the penalty area but it's cut out by Elche. Moments later Pedro stings Tyton's palms after a nifty one-two with Messi.
Updated
70 min: Rakitic has been really impressive tonight. He's done the - albeit very minimal – dirty work diligently and hardly given the ball away. He's got the right blend of creative talent and practical decision-making.
69 min: Elche win possession. Wahey! Elche lose possession. Boo!
65 min: Munir is off. Pedro is on. The Camp Nou crowd give the 18-year-old Moroccan a standing ovation. He looks a very good prospect. Although, those getting too excited should calm down. Elche could make many a good young player look very, very good.
Goal! Barcelona 3-0 Elche (Messi 63)
The little man's playing all right here. Alves shuffles along the right wing and squares the ball to Messi just inside the penalty area. He gathers the ball and faces up to his defender, he takes him to the right and then cuts back inside to his left and then shifts the ball, once, twice and three times across the line of Elche defenders and rolls the ball into the far corner with ease. No stepovers, just lightning quick footwork and a simple finish. Brilliant.
60 min: This really isn't a competition. Elche can't string more than three passes together. Barça can't string less than 23 passes together.
57 min: Pasalic has been booked for Elche, who look a little frustrated, as though they've just realised that they still can't land a punch on their opponent even though he's just had one arm tied to his side. Poor Elche.
56 min: Barça pass, pass, pass their way through the Elche defence. Messi works the ball to the right where Bartra – the substitute centre-back of course – scurries into the box and tries to round Tyton, who does very well to save with his feet.
53 min: Alvaro Jiménez is on for Elche. Jose Angel is taken off. Jiménez is a forward.
Updated
51 min: Elche just crossed the ball. It wasn't a good cross. But from small acorns do great oaks grow, and all that.
49 min: The difference in quality here is ridiculous. That's no surprise given the wealth-gap, but you'd think Elche had had a man sent off not Barça. They need to shift that bus a little way up the Camp Nou pitch. At least do your defending further up eh lads. Lads?
Goal! Barcelona 2-0 Elche (Munir 46)
Well, being down to 10 men really affected Barça. There was an element of fortune to the assist, mind. Rakitic attempted to scoop the ball over the defence as Munir timed his run behind them. But the ball skidded off an Elche player's head and landed at Munir's feet. The finish was delicious – a little flick of the left boot from 15 yards out with his left foot that sends the ball bouncing into the left-hand corner. Not bad composure for an 18-year-old.
Updated
45min: Peep! Marc Bartra – a central defender – is on for Rafinha.
Is this Elche's lucky mascot?
Half-time
Peep! Still, at least this will be more of a workout for Barça now. And who has been shifted back to centre-back? Barça's new midfielder of course. Poor Rakitic.
45 min: That naive gene that Barcelona have still exists in the Luis Enrique version of this team. That was pitiful defending and also a ridiculous decision by Mascherano to carry out a professional foul. Rodrigues may have scored. But so what? Barça would have had 80% possession and at least 10-15 shots on goal in the second half to score another goal. Dear me.
Mascherano sent off!
44 min: Oh Barça! The whole defence shifts forwards to the half-way line as the Elche goalkeeper clears it, Busquets Steven Gerrards a woeful attempt at a header and sends Rodrigues through on goal. Mascherano sprints after the Elche forward and clips his heels and is correctly sent off. This is interesting. At last.
Updated
Goal! Barcelona 1-0 Elche (Messi 42)
Who else? Busquets pounces on a loose pass out of defence by Elche and plays it into Messi. He gathers the ball and turns past his marker, shifts it on to his left foot away from two defenders, and drives home into the far right corner across the goalkeeper. An excellent goal made to look routine by an extraordinary player.
Updated
39 min: What a gorgeous little disguised pass this is by Messi. He gathers the ball on the edge of the box and shapes to shoot, but then cuts out 1,2,3,4 Elche defenders with a slide-rule pass to Munir, who should shoot but elects to Arsenal-2007-11-it across goal instead, where no-one is waiting.
35 min: Barça pop, pop, pop their way down the left hand side, where Alba picks out Munir, sending the teenager scurrying to the byline. He cuts the ball back to Messi, who cleverly pulls off his marker and waits to tap the ball home, but Damian just gets a toe to the ball and clears for a corner.
32 min: This is just a matter of time. Iniesta clonks the bar with a left-footed strike from 20 yards out that is almost too sweet. And then Alves gets on to the end of a corner with a right-footed volley hit low and hard but a yard right of goal. Anyway goals don't matter to Barça. They're winning the possession war 79%-21%. Take that goals!
29 min: Mosquera is the latest Elche player to benefit from the referee's leniency. He brings Rakitic tumbling to the turf with a tackle from behind that would be followed by a yellow card 99% of the time. He's lucky. Barcelona are as overwhelmingly dominant as you would expect but Rafinha and Munir are just a thought or two slower than Messi, which is leading to the final pass breaking down.
Updated
26 min: Messi has just found his turbo boosters and caused all kinds of havoc in the Elche midfield and defence. A rapid turn and zip inside his marker takes him to the edge of the box, where he tries to find Munir on the left with a poked pass that is just a degree away from putting the youngster in on goal.
24 min: Busquets has his ankle clipped cynically by the Elche captain Jonathas. Busquets looks dismayed. He'd never do such a thing. One more of those and Jonathas is in the book.
21 min: Munir rattles the bar after a razor-sharp turn in the penalty area. He turned away from his marker after Iniesta rolled a little pass into him (turning clockwise, ala Thierry Henry) and clattered the ball with his left foot. He's an inch away from scoring on his debut at Camp Nou. He's electric from a standing start.
Updated
20 min: Rakitic must be feeling immense pressure, parading around Camp Nou in Xavi's shoes.
19 min: Rodrigues, perhaps because he realises he's got no-one for company up front, then spanks a shot at goal that drifts away into the Camp Nou background. He looks lively. Lonely, but lively.
Updated
17 min: Rodrigues dangles the carrot on the right wing and draws Alba into a tackle that he doesn't make, but his cross is played into a penalty area with exactly zero Elche players in it. Attacking isn't on the menu for the little club from Alicante tonight.
Updated
15 min: Rakitic has his first sighter of the night. But he slices his left-footed shot well wide. Elche have touched the ball, um, about twice in the past five minutes.
13 min: Pass, pass, pass, pass, pass, pass. This is going to be a long old night for Elche.
11 min: Dani Alves is sent through on goal with a flick of Messi's left boot, but he's marginally offside. That was a wonderful pass, executed with delicious precision.
9 min: Messi gets his toes twinkling for the first time this evening. Nipping the ball from his left to right foot in the blink of an eye, driving forwards and then dinking the ball towards Munir on the far post, but Lombán clears. Barça are cranking up the pressure now.
7 min: Elche try to apply a bit of pressure on Barça's defence but a move in the final third breaks down and Barcelona pop, pop, pop the ball around in the Elche half to no avail. Meanwhile, an email: "Hi Gregg," writes John McEnerney, "I can see FCB running Real close for La Liga this year but there's probably just too many new faces. Kroos will be the difference between them. AM haven't replaced well enough to retain the title. Rakitic is a class player and will drive FCB along with a bit of steel in the middle which they haven't had since Toure but it won't be enough. They'll hammer teams along they way but when it comes to the big games they might suffer."
Updated
4 min: So, after a delayed start, Barça's attack finally gets to move through the gears. Messi is freed up for a run down the left, jinking inside and playing the ball square to Rafinha, but the debutant tries to cut inside on his left foot instead of having a pop with his right. He looked a bit too keen there.
Updated
1 min: A cat has just made a fantastic dart through the middle of Camp Nou, evading three or four challenges and finally being plucked off the turf in the corner by a steward whose hand took a scratch or two as he shooed it away. That's the new Barcelona era up and running.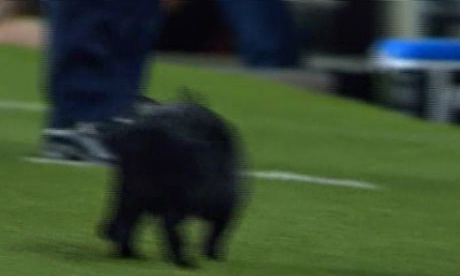 Updated
Peep! We're off. Barcelona are shooting from left to right on my TV. Elche, in white, are going the other way.
The teams are out. The Barcelona anthem is echoing around Camp Nou and we're almost ready to go …
How will Barça respond this season after the disappointment of winning nothing last year? There's certainly a lot of optimism since Luis Enrique's arrival. He was Barça B coach when Guardiola's Barcelona was tiki-taka-ing European football to death, so he knows what the high watermark is.

What a result! Tiny Eibar (population 27,000) have beaten Sociedad 1-0. It's their first match in the top flight. And Javi Lara's goal on 45 mins has toppled their local rivals. Great stuff.

Updated
So, the Barcelona evolution begins with Xavi watching on from the bench. Everybody faces the fading light at some point in their lives. Luis Enrique is here to modernise, and modernise he will. Rakitic and Iniesta will be responsible for pop-pop-popping the ball around midfield with Busquets sitting in behind them. Munir El Haddadi will be grateful to Neymar's left ankle for his opportunity tonight. He's 18. Yes, 18, and makes his full Barça debut tonight. It's not like there'll be many people watching. Good luck.

Tonight's performers
Barcelona (4-3-3): Bravo, Alves, Mathieu, Mascherano, Alba, Sergio, Rakitic, Iniesta, Munir, Messi and Rafinha. Subs: Masip, Montoya, Bartra, Pedro, Sergi Roberto, Sandro and Xavi
Elche (5-4-1, I think): Tyton, Damían, Lombán, Mosquera, Coro, Rodrigues, José Angel, Pelegrin, Albácar, Jonathas, Pasalic. Subs: Manu H, D Cisma, Aáron, Adrían, Faycal, Samu.

Updated
Evening. If Luis Enrique could have hand picked a home tie to get his career as Barça coach off to a flyer it would have been this one. Yup, Elche, who finished 16th in La Liga last season, have never left Camp Nou with anything more than a point. David will have to aim square between the eyes if that record is to change tonight. Their biggest hope is to pounce on any patches of rust that have developed over the summer amid Barça's ranks. There's also the fact that Javier Mascherano is still at centre-back. Mainly due to the fact that Thomas Vermaelen is not yet fit enough to bother the Camp Nou turf. Jeremy Mathieu, the most-expensive 30-something defender ever, does start though. Neymar has developed ankle-knack so Lionel Messi will have Munir and Rafinha for company in the front three.

While I fish out the full team news, here's a song about an ankle to keep you occupied. It's a right ankle, though. Neymar's sprained his left one, apparently.

Updated