Well, that's revenge of sorts for Atletico Madrid after the Champions League final and means the underdogs have laid down their ambitions for the season. They want to win the title again. Real Madrid, for their part, were not at their best.
Still, for what is a glorified friendly, this was a pretty good double-legged affair. Certainly you couldn't fault the speed and commitment of the players. Right, I'm off. Thanks for your emails and for reading. Bye!
Final whistle: Atletico Madrid 1-0 Real Madrid (2-1 agg)
And that's the whistle. Atletico win the Super Cup!
90 min+4: Simeone is now conducting the crowd in front of a poor kid wearing a Real Madrid shirt.
90 min+3: With the Real defenders up the pitch, Atletico attack. But, in a 3 on 2 overlap, Koke attempts to chip Casillas and gets it all wrong. Real counter and win a corner. Casillas comes up for it, but there's a foul in the box and the referee blows his whistle and waves a yellow at Ronaldo for pushing Godin.
90 min + 2: Benzema and Ramos throw themselves at a Carvajal cross, but Miranda is in the midst of them and just does enough to stop them from nodding it home.
RED CARD!
That's a pretty tame red. Modric clips Cristian Rodriguez and earns his second yellow of the night.
90 min: Miranda, who is still lurking in the box for no good reason, very nearly gets on the end of a lazy cross into the box. Who knows what the centre back is doing in the opposition penalty area at this stage of the match. There will be four minutes of extra time.
88 min: Ramos ensures he gets his traditional yellow by jumping in the air and crashing Raul Garcia to the ground. The Atletico man is happy enough to go down and waste some time. He is replaced for Saul after having had an excellent night.
87 min: Rodriguez finds himself in space and with only Varane to beat. He drives at goal but can't beat the Real Madrid defender when he probably should have done. Good defending.
86 min: These two have a history of late goals - the Champions League final, the match on Tuesday. None of which is great news if, like me, you have a train to catch and could do without extra time. Atletico are now so deep they may as well just line up in the goalmouth. Ronaldo aims a shot at goal, but it hits that red and white wall.
85 min: Bale goes on a lung-busting run up the right, but Godin busts lungs right alongside him and tackles.
83 min: Gabi blunders into the box and into Ramos as he does so. He goes to ground looking for a penalty but no-one is buying it. Cristian Rodriguez comes on for Atletico, Mandzukic the goalscorer comes off to a standing ovation.
Updated
83 min: Ronaldo can't quite find Benzema, who is pounding into the penalty area like a wild bull. Still, Real Madrid are passing the ball around the box and Isco dinks a ball to Bale in the box. He attempts to wrap his left boot around the ball but it's too tight an angle for him.
80 min: Bale cuts inside from the right wing and whips a shot at goal. Isco nearly gets a touch to it in the box but Moya claims easily in the end.
78 min: Ramos and Mandzukic have a coming together which results in the pair of them exchanging words and an Atletico free kick. The ball is curled in and Ramos pops up to head clear.
77 min: Isco gets a yellow for kicking out at Jimenez. That's the seventh yellow (if you don't include Simeone's sending off)
76 min: Mandzukic races onto a through ball and is clear of the last man. But just as he gets to the box, he goes down. Carvajal pushed him hard in the back and, as the last man, might well have got a red had the referee decided to award it. He doesn't whistle, though, much to the crowd's irritation. God knows what Simeone's reaction was. Perhaps it's as well we don't see it.
74 min: Raul Garcia goes into the book for shoulder barging Modric. Simeone flaps his arms as though this is the gravest miscarriage of justice of all time.
72 min: Raul Jimenez is brought on to replace Griezmann, who looks a bit disappointed to be subbed.
71 min: Real Madrid are sloppy in possession in the midfield and Raul Garcia nips in to take the ball of them. He finds Griezmann who can't get a decent shot away.
71 min: From nowhere, Koke decides he may as well have a shot. The ball swerves one way and then the other as he cuts across it. With Casillas beaten, the ball swings over the bar.
69 min: Coentrao comes off, Marcelo comes on. That's the last of Real Madrid's substitutes.
68 min: Benzema takes aim at goal and is about to shoot from just outside the area. Griezmann has other ideas and clobbers his French colleague from behind. he gets a yellow for his troubles. Ronaldo blasts the shot into the wall. Simeone, in the stands, is marching backwards and forwards, probably carving out a groove in the stadium concrete as he does so.
66 min: That's the end of James. He's faded this half, and he is replaced by Isco. There's a brief pause as a spectator runs onto the pitch, before being rounded up by the police and taken into a back room somewhere to contemplate his actions while on the wrong end of a baton.
64 min: Mandzukic crosses from the left wing to Raul Garcia on the right. As players throw themselves into the box, Atletico Madrid look for a chance that doesn't come. Real Madrid counter and eventually Bale hammers a shot at goal. It hits a defender and goes out for a corner. Nothing comes of it.
63 min: Bale beats two men and heads for the box, where he goes to ground under the heavy attention of two defenders. Nothing given, much to his chagrin.
62 min: The game is still being played at a wild pace. Raul Garcia attempts to play Mandzukic into the Real area, but the visitors clear allowing James to find Ronaldo with a lovely ball. Still a long way out, Ronaldo whips a dipping shot at goal which Moya gets his body behind.
60 min: Thought that might happen. Ronaldo gets onto a long ball sprayed long up the pitch and whips in a ball to the penalty spot. Godin nips in in front of Benzema and puts it out for a corner. Varane can't head the corner home though.
59 min: Ramos slips as he attempts to clear a cross and skews the ball behind for an Atletico corner. The introduction of Ronaldo at this point has done precisely nothing.
57 min: Juanfran diddles around with the ball on the right wing, then darts into the box before pulling the ball back to Raul Garcia. He sends a swerving shot just wide of the upright. A fantastic effort. Simeone in the stands reacts as if this is the worst thing that has ever happened in the history of all football.
55 min: The officials are beginning to point out to Simeone that he has been sent off, so simply standing a metre into the stands and continuing to bellow at his side is not really in the spirit of things. To be honest, it's nearly as entertaining to just watch him.
54 min: Atletico Madrid attack at speed, and the ball is whipped into Koke in the box. He pulls back his leg and is about to shoot, when Carvajal intercepts and clears.
52 min: Coentrao floats the ball into the box, and it is nodded behind for a corner. It's taken short and Real Madrid jigger about with the ball to little effect. Atletico clear through Miranda and then Raul Garcia, who is completely clattered by Xabi Alonso. He gets a yellow. Simeone in the stands is still shouting, and marching about in front of paying customers who are straining to see past him and beginning to look a bit narked.
49 min: From the free-kick, Atletico Madrid are this close to scoring. Raul Garcia's header hits the crossbar and bounces down onto, but not over the line. Mario Mandzukic is unable to tuck away the rebound. A very close run thing.
48 min: Siqueira tries to beat Modric but is held off by the Real man. He throws himself to the ground and Modric is given a yellow, which is harsh. The cameras cut back to Simeone and it appears he is standing directly behind the dugout, bellowing his head off.
47 min: Ronaldo marauds up the left, doing step overs and all sorts up the wing. He looks ready to make a difference. The cameras cut to the stands, where Simeone is prowling about. Whether he's intimidated the people who should have been sitting there, or whether the seats were just empty is unclear - but he's up there in glorious isolation, a buffer zone of empty seats around him as he marches like a caged bear. Well, you wouldn't want to sit next him, would you?
Peep, peep: It will be Kroos to come off as the second half begins. Ronaldo's arrival suggests Ancelotti knows that, whether this is a glorified friendly or not, he needs to beat the noisy neighbours.
Back to the match: Cristiano Ronaldo is coming on. Not sure who's coming off.
Someone who hasn't had much of a mention - largely because he is doing a lot of the unheralded stuff in the middle - is Atletico's Tiago Mendes. He's pulling strings, making passes, snapping into tackles and largely looks very impressive for someone who is 33 and playing in a high-paced squad. So this is an attempt to redress that. Well done Tiago.
"You're bang on with your description," says Matt Dony, making him one of the very people to have ever agreed with me (meaning he's probably wrong). "Simeone does look utterly demonic, which, when paired with the decidedly vampiric-looking Mandzukic, makes for an evil team. And, let's face it, it's not like they need any help in being, shall we say, spikey. Has there ever been a team that reflected its manager's personality more? (Apart from Mandzukic. He doesn't do well with reflections.) Top entertainment!"
Half time: With the clock just clicking past the 45 minute mark, James takes a couple of touches on the edge of the Atletico area and fizzes a shot at goal. He doesn't get any bend on it, though, and the ball goes behind. Still, he's had a very good half.
44 min: Raul Garcia decides to do the same from the other end. From a mile out, he flashes one at the goal. But, even though it's going wide, Casillas decides to save it and tip it behind for a corner. Raul Garcia again dives in low at the near post, risking a boot in the kisser. He gets another corner instead. From it, it's Raul Garcia again! He's completely free, but heads over from five yards. Should have scored.
40 min: Varane lines up a shot from downtown Madrid. It whistles 25 yards wide.
39 min: From a long throw, Mandzukic heads backwards and the ball loops up into the air and nearly over Casillas's head. Instead, it plops down harmlessly onto the top of the net.
38 min: Atletico, perhaps because they haven't got their manager screaming at them from the touchline, have gone much deeper and are sitting back as Real Madrid become more and more dominant. James finds Bale on the edge of the area and his first touch takes him clear of Godin. His shot, though, is an inch wide of the far post. It feels as though a goal is coming though.
36 min: Real Madrid exchange a burst of quickfire passing around the Atletico box. Eventually, Modric sees James free in the are and finds his head. From the penalty spot, though, he can't quite find the far post. With Ronaldo off the pitch tonight, James is finding a bit of space to express himself.
32 min: Bale is clobbered by Godin, the Atletico player coming in like a supertanker a good four miles from being able to stop. James clips in the free kick, Raul Garcia nods it out and, from the follow-up shot, Mandzukic steers the ball behind for a corner which he then clears.
Now here's an email! "That 4th official Simeone smacked is an ex student of mine. Taught him English. Nice lad," emails Tom Walling. Think we might need a bit more detail, Tom. What business do you have in Spain?
Updated
29 min: It's a little disappointing Simeone has been sent off. He was like a WWF wrestler or a panto dame on the side of the pitch, waving and shouting, and getting booed and cheered in equal measure. On the pitch, Godin puts in a strong tackle on Bale and deprives him of a shooting chance. From the resulting corner, Real Madrid concede a foul.
26 min: Back to the football. Bale wins a corner with Juanfran off the pitch and changing his shirt. From the corner, Real attack hard and Atletico scramble to get the ball away. They just about manage it before James comes steaming into the box, takes a reverse ball and scuffs a shot across goal that nearly bobbles in. Real Madrid have gone up a gear here, and again push hard before forcing a save from Moya.
Simeone has utterly lost control on the sideline, he's marching about all over the place. He pats the referee's assistant on the back of the head and gets himself sent off for his troubles. As he goes, he tries to gee up the crowd - clapping his hands at them, waving his arms. He looks utterly demonic, if we're being honest.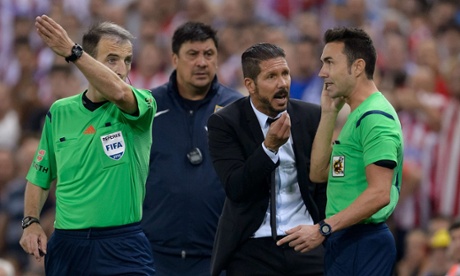 Updated
23 min: Now Coentrao flattens Juanfran, who gets a knee to the nose in the middle of a tackle. He looks a bit groggy, but otherwise OK. Simeone wanders onto the pitch to give the referee some advice on how to deal with things, which is thoughtful.
21 min: Kroos goes into Raul Garcia, knocking him flat. Diego Simeone loses his mind on the touchline. Basically, players are largely clobbering each other at the moment.
20 min: A stretcher and blanket is brought on for Ramos. He's back on the pitch a minute later. The whole act has a touch of this about it:
19 min: Things are beginning to get a bit tasty here.The crowd whistle and howl as Mandzukic is flattened by Ramos. Mandzukic looks quite hurt. Ramos is rolling around in the style of a man who has just clattered someone quite hard and doesn't want a yellow card, so is pretending to be injured.
18 min: Koke goes in a little firmly and Real Madrid are awarded a free kick. James lofts it in, Ramos attempts a scissor kick and we're left with a corner instead. Tiago, who has been holding things together in the midfield for Atletico, is given a yellow card for the crime of yapping at the referee. From the corner, the ball is cleared and Modric screws a long shot over the bar.
15 min: Griezmann flashes a surprise shot from distance at Casillas. It takes a nick on the way through the defence and goes out for a corner. Every time Atletico get the ball, they do something direct with it. Real are somewhat fannying about when in possesssion.
14 min: Real Madrid skedaddle the ball about a bit, before James whips a ball into the box that might have been a shot, or might have been a cross. Was probably a cross, but had it gone in he wouldn't have admitted it. It's a moot point, however, as it actually went into touch.
11 min: Siqueira goes down after a shove from Bale. Those two were going at it in the first leg as well. One to keep an eye on. Hopefully.
10 min: Alonso finds Modric out on the right wing after a little spell of midfield passing. Real are attempting to settle by keeping hold of the ball. The cross, though, goes straight into Moya's arms. A moment later, Coentrao crosses from the other wing. His effort goes over the goal though.
7 min: Real Madrid get themselves into an unusual position: in possession. They probe away up their right wing but, everytime a player gets the ball, he finds an Atletico player invading his personal space. If Atletico intend to play the season in this style, there's a chance they'll be burned out by 4 September.
4 min: Atletico continue to attack and Koke goes down in the box. The referee says no penalty, not that Koke was asking for one. A breathless start here.
2 min: Real Madrid have barely touched the ball, Atletico have been playing in the traiditional style: like a swarm of angry bees. Meanwhile, they appear to have brought in another striker who can put away chances when he needs to. When was the last time Atletico had a srtiker who didn't do the job (then get signed by someone else at the end of the season)?
GOAL! Atletico Madrid 1-0 Real Madrid (Mandzukic, 1)
Atletico have come out as if fired from a cannon! Raul Garcia fires a shot at goal, which is saved. The clearance goes long and is claimed by keeper Koya. He launches it upfield, and in the most Route One way possible, it's nodded on to Mandzukic who smashes it past Casillas. Oof.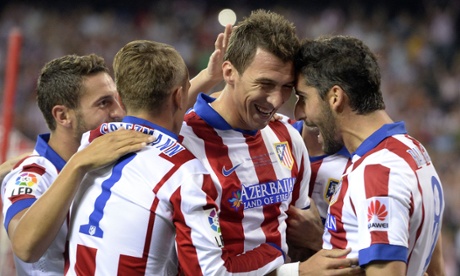 Updated
Kick off
Peep, peep: we're off. Atletico immediately nick the ball from Real, pump it forward to Mandzukic in the Real area and a late tackle prevents him getting a shot away. He does win a corner, though, which is cleared.
The teams are on the pitch and the captains are exchanging pendants. What do they do with all the pendants? They must have hundreds of thousands of them by now.
So this match kicks off at 10.30pm Spanish time (9.30pm BST). Which means it will finish tomorrow. I quite like the idea of football matches spanning two days. I don't know why. Searing analysis there from the Guardian. We won a Pulitzer, you know.
"Rodriguez's goal celebrations don't look as good without a giant bug on his arm," emails Ian Copestake accurately. Compare and contrast: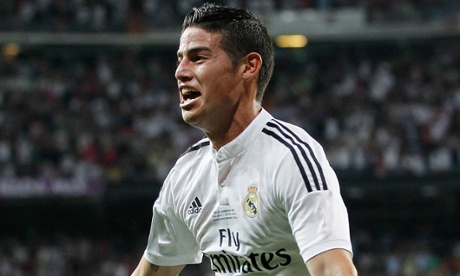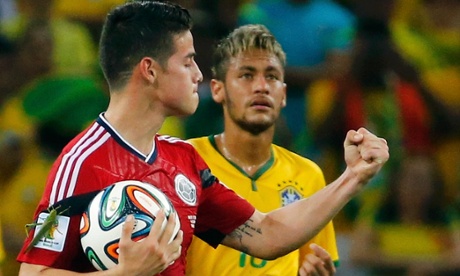 Updated
There were one or two rumours that Sami Khedira is in Munich talking to Bayern tonight, which both explains why he's not here tonight and is also not good news for Arsene Wenger who was hoping to sign him. No rumours as to where Angel Di Maria is, though after having said he wants to leave the club, he might well be on the naughty step. Or at Old Trafford, which more or less equates to the same thing these days.
A stat, for anyone that way inclined.
Team news
Atletico Madrid: 1 Moya, 20 Juanfran, 23 Miranda, 2 Godin, 3 Siqueira, 14 Gabi, 5 Tiago, 6 Koke, 8 Raul Garcia, 7 Griezmann, 9 Mandzukic,
Subs: 13 Oblak, 15 Ansaldi, 24 Gimenez, 4, Suarez, 17 Saul, 21 Rodriguez, 11 Jimenez
Real Madrid (Ronaldo on the bench, no Di Maria or Khedira in the squad): 1 Casillas, 2 Varane, 3 Ramos, 5 Coentrao, 8 Kroos, 9 Benzema, 10 James, 11 Bale, 14 Xabi Alonso, 15 Carvajal, 19 Modric
Subs: 13 Keylor Navas, 3 Pepe, 7 Ronaldo, 12 Marcelo, 17 Arebeloa, 23 Isco, 24 Illarra
Atletico, it should be noted, announced their team with this video complete with pounding drums. Taking it quite seriously, then ...
Real Madrid could only manage this. Clearly, they have not prepared well enough.
Updated
Preamble
Good evening, it's time for Part Dos. Three days ago, these two sides played out one half of football that was, let's face it, dull. The match kicked off deep into the Spanish night - so deep, in fact, that parts of the second half were technically played the following day. Fortunately, it was the following day that this livened up: two late goals setting this second leg up nicely at 1-1.
Somehow, it feels as though these two sides have been duking it out, on and off, for months. It's been a series of skirmishes that began in the league last season (that battle being won by Atlético), continued in the Champions League final and - with a brief pause for a World Cup and reinforcements - commenced again on Tuesday for the first leg of this Spanish Super Cup.
It's been interesting to see how each side has coped across the summer. Both have spent similar sums of money - Real shelling out €120m and Atlético €100m - but they have gone about it in entirely different fashions. Atlético have had to rebuild their squad after it was plundered, largely, by Chelsea. Mario Mandzukic and Antoine Griezmann are the new headline acts, but the rest of the bill are a cast of lesser stars, mostly finding their way in their new red-and-white striped shirts. Diego Simeone is adamant, though, that they will all fit into his system rather than the club remodelling its ethos as well as its staff. "Stability comes with maintaining the same ideas: intensity and aggressiveness will continue to be the basis," he said.
Across town, though, the money has been spent how it has always been spent: on baubles. Kroos, Navas and James Rodriguez may not have been strictly necessary but they do shine prettily on a team sheet. It remains to be seen whether Sami Khedira and Angel Di Maria will depart, however.
This double-legged match has been billed as a preview to the season. One club claim to be David (despite having spent like a giant, a fact they are downplaying) and the other will always be happy to be Goliath. Can Atlético win tonight, and perhaps go on to repeat their heroics of last season by winning the league? Or will Real Madrid triumph and so restore their order to Spanish football, the one that sees them and Barcelona fighting it out alone up top, with the others battling beneath them. Simeone thinks the latter is the most likely scenario. But he said so with a twinkle in his eye. Tonight, we could see what that twinkle meant.
Kick off: 9.30pm BST