That's the qualifiers out of the way, then. Arsenal made it through by the skin of their teeth. Celtic, meanwhile, were knocked out of Europe twice before the end of August. Trailing Caley Thistle and the Accies in the Scottish Premiership, the only way is up, Ronny Deila. And so we've reached the Champions League proper: 32 clubs, one cup. It sounds like a particularly violent reimagining of a popular romantic viral hit, doesn't it. But it's not.
The tournament starts to take shape today at the Grimaldi Forum in Monaco, where the most powerful folk in European football meet up to learn about tax avoidance schemes find out who'll be playing who in the group stages of the 2014-15 Champions League. For the first time since the days of the old European Cup, this year's competition will be a free draw, reducing the chances of the same old names reaching the latter stages yet again, while giving a boost to some of the lesser names, lending the tournament a more exotic air … no, of course it won't be. But we can dream, it's free and they can't take that away from us. The seeded pots, then: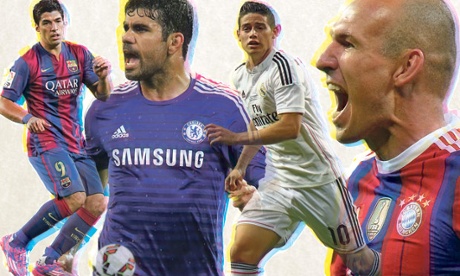 Pot 1: Real Madrid (Spain), Barcelona (Spain), Bayern Munich (Germany), Chelsea (England), Benfica (Portugal), Atlético Madrid (Spain), Arsenal (England), Porto (Portugal).
Pot 2: Schalke (Germany), Borussia Dortmund (Germany), Juventus (Italy), Paris Saint-Germain (France), Shakhtar Donetsk (Ukraine), Basel (Switzerland), Zenit St Petersburg (Russia), Manchester City (England).
Pot 3: Bayer Leverkusen (Germany), Olympiakos (Greece), CSKA Moscow (Russia), Ajax (Netherlands), Liverpool (England), Sporting Lisbon (Portugal), Galatasaray (Turkey), Athletic Bilbao (Spain).
Pot 4: Anderlecht (Belgium), Roma (Italy), Ludogorets Razgrad (Bulgaria), Apoel Nicosia (Cyprus), Bate Borisov (Belarus), Maribor (Slovenia), Monaco (France), Malmo (Sweden).
The usual rules apply. Each of the eight groups, A through to H, will contain one team from each seeding pot. No club can play a side from their own association. And there are some other restrictions, but quite frankly life is too short. The whole interminable shebang - which will include the vote for, and presentation of, the 2013/14 Uefa Best Player in Europe Award, for which Manuel Neuer, Arjen Robben and Cristiano Ronaldo are nominated - begins at 5.45pm CET, which is 4.45pm in £sd.